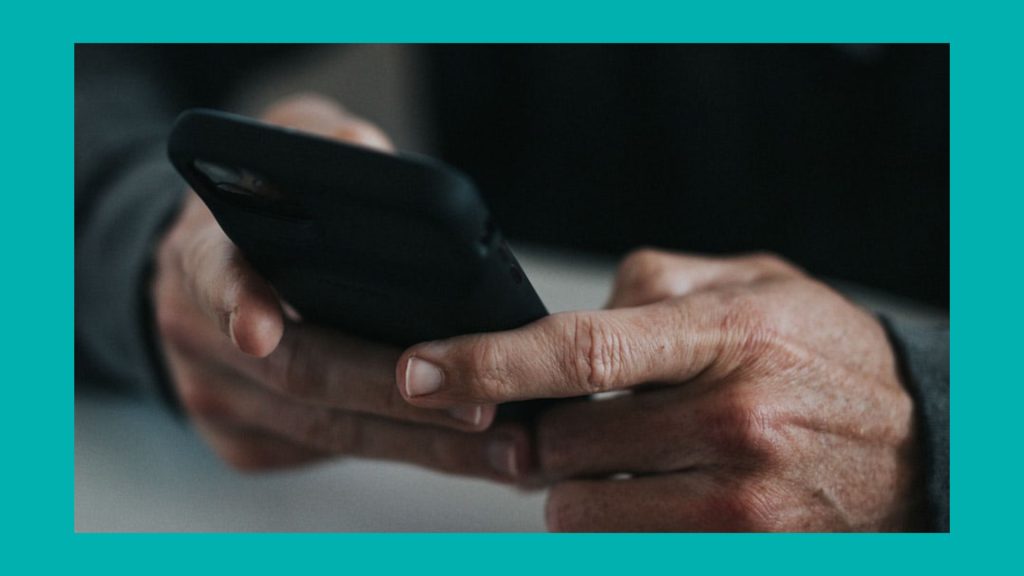 If you are experiencing an emergency, please go to the emergency department of your nearest general hospital or call 911. If you're experiencing a non-emergency crisis, you can check out the resources below to help you get through it.
Distress and Crisis Lines:
The Distress Centre answers calls 24/7, with crisis line specialists providing confidential, bilingual support. Callers can reach the Centre at 613-238-3311.

***NEW*** You can now text and chat with the Distress Centre between 10:00 a.m. and 11:00 p.m., 7 days a week — text 343-306-5550 or chat www.dcottawa.on.ca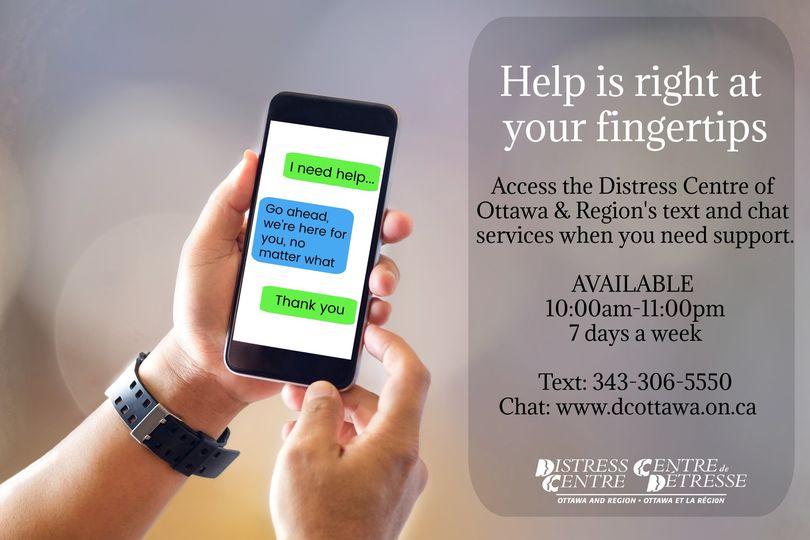 The Mental Health Crisis Line is bilingual and answers calls for people ages 16 or older 24 hours a day, seven days a week. Callers can reach the line at 613-722-6914.
Tel-Aide Outaouais offers French-language mental health telephone support from 8 a.m. to midnight every day. Ottawa residents can call 613-741-6433 and Gatineau residents can contact 819-775-3223.
Kids Help Phone (1-800-668-6868) provides confidential phone and web counselling for children ages 20 and under, 24/7.
Youth Services Bureau (YSB) provides youth and family counselling, crisis support, a 24/7 crisis line at 613-260-2360, walk-in counselling and an online crisis chat service for youth at http://chat.ysb.ca.
Ottawa Rape Crisis Centre: The ORCC supports and empowers trans and cis women, trans men, two-spirit, gender-fluid, and non-binary survivors. The crisis line provides service 7 days a week to survivors of sexual violence, supporters, family and friends of survivors. Accompaniment can be arranged through the Crisis Line to hospital and police. Reach someone now by calling 613-562-2333.
Fem-Aide (Violence envers les femmes) Fem'aide est disponible 24/7 : 1-877-336-2433.
Good2Talk: for post-secondary students, available 24/7: 1-866-925-5454.
Centre des services communautaires/Vanier Community Service Centre, Crisis counselling: 613-744-2892 ext. 0
The Ottawa Pastoral Counselling Centre Telephone Counselling: 613-235-2516 x 0
Crisis Text Line is powered by the Kids Help Phone. It's open to adults who would rather text someone about their crisis. Crisis Text Line provides access to free, 24/7 support and information via the medium people already use and trust: text.
The National Overdose Response Service (NORS) is a national phone-based overdose prevention service to support Canadians and countless Indigenous communities. The service works by calling 1-888-688-NORS (6677). A caller is then connected to a virtual overdose supervisor who will monitor them for 15-30 min after they use. During the call, if there is a concern of overdose, such as the client becoming non-responsive, the supervisor will connect with local 911 dispatch services.
---
Counselling Connect
Information lines:
Call 2-1-1 for information on the full range of community, social, government and health services and programs available in Ottawa and how to access those services.
---
Referrals and system navigation:
AccessMHA: Are you looking for support for your mental health or substance use/addiction? Navigating the complex and sometimes confusing healthcare system can be challenging. Our friends at AccessMHA can help. Visit https://www.accessmha.ca/ for free mental health and/or substance use/addiction support, services, and care.
Mental Health Community Support Services (MHCSS): If you are seeking services from CMHA Ottawa or one of our partner agencies, please download the Mental Health Community Support Services (MHCSS) referral form for intensive case management by clicking this link: Eligibility Referral Form – MHCSS
---
Didn't find what you're looking for? Visiting from outside of Ottawa? Check out CMHA Ontario's list here.

For clients of CMHA Ottawa and individuals experiencing severe and persistent mental illness and/or substance use disorder, please note that the resources listed below (BounceBack, Tips to manage, Coping with stress, etc.) are not intended to be a substitute for professional help, diagnoses, or intensive case management.


BounceBack:

BounceBack is a free skill-building program managed by the Canadian Mental Health Association (CMHA). It is designed to help adults and youth 15+ manage low mood, mild to moderate depression and anxiety, stress or worry. Delivered over the phone with a coach and through online videos, you will get access to tools that will support you on your path to mental wellness.
The team at BounceBack has increased their capacity amid the COVID-19 pandemic.
Bonus: Tips to manage mental health during COVID-19 (CMHA Ontario)
In the wake of COVID-19, Canadians are facing a new reality of social distancing, self-quarantining and isolation in order to protect public health and safety. These new circumstances may lead individuals with mental health concerns into heightened symptoms of anxiety and depression.
In what may be a difficult time for many, the Canadian Mental Health Association (CMHA) is offering some basic tips to help people remain calm and balanced as this public health situation unfolds.
Considering the level of attention and seriousness being paid to COVID-19, it's normal to feel anxious. Try not to avoid, ignore or suppress anxious thoughts. Instead, be aware of your anxiety and accept that you're feeling anxious in this situation. Try to keep things in perspective; notice and challenge your thoughts that may be extreme or unhelpful.
Self-care is critically important at this time, as worries can be made worse if we aren't taking care of ourselves. Lean on social supports, try to get enough sleep, eat healthy, exercise and engage in enjoyable activities. Do the things you would typically do to support your health, and be sure to use caution and follow health and safety guidelines while doing them.
Seek information from reliable news sources only. Limit checking in on the latest news to short, defined periods, and refrain from setting related push notifications on your device. Appropriate information consumption may be calming and can lessen the sense of danger.
Take the recommended precautions as outlined by Health Canada and other credible health agencies. Remain focused on the factors within your control, such as washing hands, covering your mouth during coughs and sneezes, avoiding non-essential travel, etc.
If you're noticing that your symptoms of anxiety (in association with COVID-19 or otherwise) are causing you significant distress or are interfering with your ability to function normally, reach out for formal mental health supports from a recognized agency, such as CMHA.