Meet Casandra
Like many people her age, 19-year-old Casandra juggles a lot of responsibilities. She's a full-time student in her second year at St. Laurence College in Cornwall, Ontario, where she's enrolled in the social service worker program; she works with Valoris as a community integration worker; and she's currently wrapping up a field placement with CMHA Ontario's BounceBack program.
All of that is in addition to managing life as a post-millennial – with all its inherent trials and tribulations (like the expectation of being connected 24/7).
Casandra manages the pressures of her busy day-to-day life by participating in the BounceBack program. By day she promotes it to the public; by night she engages in its services. BounceBack is a free skill-building program managed by the Canadian Mental Health Association (CMHA). It is designed to help adults and youth 15+ manage low mood, mild to moderate depression and anxiety, stress or worry. Delivered over the phone with a coach and through online videos, participants like Casandra are given access to tools that will support them on their path to mental wellness.
Participants in this CBT-based psychotherapy service are also given their choice of four to eight out of 20 workbooks, which complement the telephone coaching (and video series) by teaching users new skills in managing their mental health in a hands-on way.
This approach puts the responsibility onto the individual, which has proven quite rewarding. "You're not letting your coach down when you don't keep up with your workbooks," says Casandra. "You're letting yourself down."
Casandra compared the experience with her BounceBack coach to something like a personal trainer at the gym (but probably quite a bit less intense – oh, and your BounceBack coach comes free of charge).
"In this case, your coach is a mental health trainer," she says. "They're going to keep you motivated, answer your questions and keep you engaged in the program, but they're not going to do the work for you – this is self-help."
Holiday stress "by the book"
The holidays can be a stressful time for anyone. Looking after one's self is crucial in maintaining a mentally healthy lifestyle. Casandra sat down with her BounceBack mentor, Angele D'Alessio, to discuss some common issues – and to identify which BounceBack workbook would work best for each scenario.
---
The scenario: Financial stress due to holiday spending
The recommended BounceBack workbook: Practical Problem Solving
What to expect: In the Practical Problem Solving workbook from the BounceBack core anxiety module, users learn how to overcome practical issues in their lives – like the financial strain the holidays may bring, for example, by using a seven-step approach that allows users to map out their own solutions.
---
The scenario: "Well, you can't choose your family"
The recommended BounceBack workbook: Building Relationships with your Family and Friends
What to expect: This workbook is designed for people feeling down, anxious or irritable who may take it out on their loved ones (we've all been there when it comes to the ol' family dynamic). For some people, these relationships can become strained during the holidays. Through Building Relationships with your Family and Friends, users learn how their feelings affect those around them, and find out how to create positive relationships.
Bonus: Better relationships work both ways. For your family and friends, they can check out Information for Families and Friends – How can you offer the best support? workbook.
---
The scenario: You're having trouble sticking to your New Year's resolutions
The recommended BounceBack workbook: Using Exercise to Boost How You Feel
What to expect: This workbook provides a step-by-step plan for BounceBack participants to add more daily activity to their lives – without necessarily signing up for a gym membership. For some people, the holidays bring on a lot of overindulgence. Using Exercise to Boost How You Feel can help motivate users to take steps to feel healthier (and better too).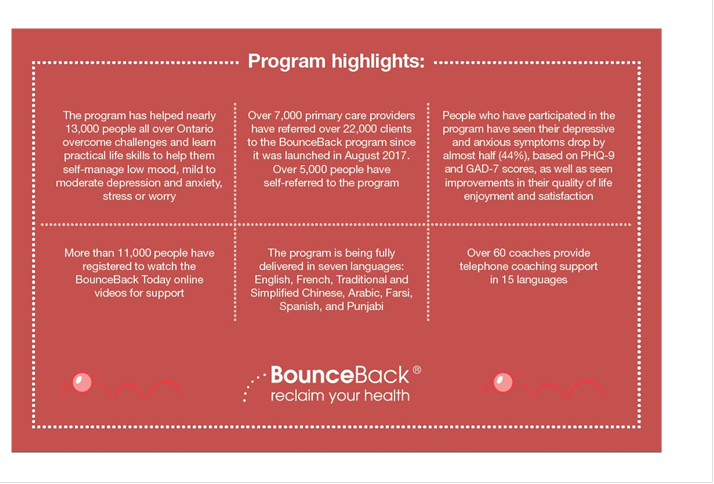 Happy holidays from your friends at CMHA Ontario, CMHA Ottawa and BounceBack!
---
Disclaimer: Workbooks are available to BounceBack clients. To become a BounceBack client/participant, you must be an Ontario resident 15 years of age or older. You may refer to BounceBack through your primary care provider, or you may self-refer – however, self-referrals require the commitment of a primary care provider/medical practitioner to review your BounceBack progress; they'll receive two reports from your BounceBack coach. Pro-tip: If you don't have a family doctor, ask the doctor at your local walk-in clinic if they're open to supporting you while you participate in the program and in receiving communications about your progress from a BounceBack coach. 
If you'd like to get the process started right away, rest assured, the BounceBack enrollment process doesn't take long once a referral has been submitted (five business days). Check out the FAQ.
BounceBack is not recommended as a solution to severe and persistent mental illness or addictions issues. If you are in crisis, please contact your local distress centre. Here's a link to the Ottawa centre: http://www.dcottawa.on.ca.
BounceBack facts:
7,000 primary care providers have made referrals to BounceBack in Ontario. BounceBack has served 13,000 clients in the province in less than two years.
BounceBack is a key part of the efforts of CMHAs across Ontario in helping to increase access to psychotherapy.
The program is offered in multiple languages.
The Champlain region – which includes Ottawa – has the highest referral rate in the province.