Most of us go through life solving our day-to-day problems without needing help to cope with our feelings. But a severe illness, an accident or an emotional crisis can overwhelm us, at least temporarily, and suddenly we need help.
Mental Health Emergency or Crisis
If you are experiencing an emergency, please go to the emergency department of your nearest general hospital or call 911.
If you're experiencing a non-emergency crisis, you can check out the resources below to help you get through it:
The Distress Centre answers calls 24/7, with crisis line specialists providing confidential, bilingual support. Callers can reach the Centre at 613-238-3311.

***NEW*** You can now text and chat with the Distress Centre between 10:00 a.m. and 11:00 p.m., 7 days a week — text 343-306-5550 or chat www.dcottawa.on.ca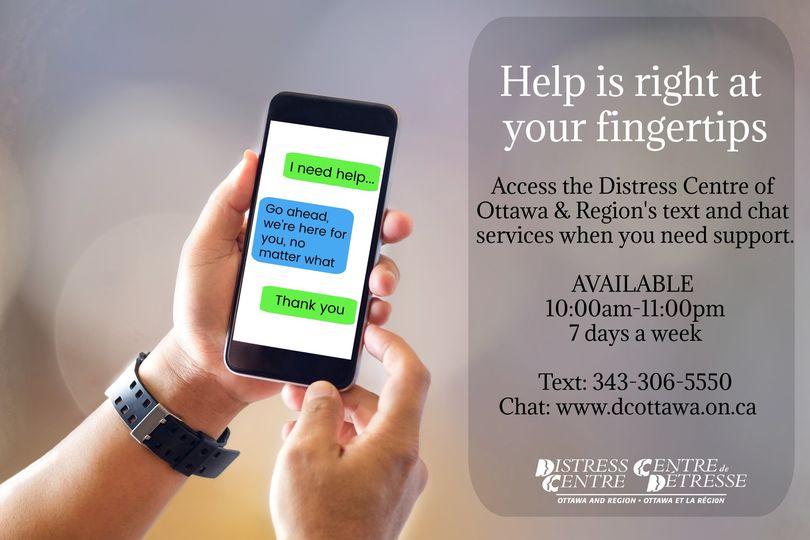 The Mental Health Crisis Line is bilingual and answers calls for people ages 16 or older 24 hours a day, seven days a week. Callers can reach the line at 613-722-6914.
Tel-Aide Outaouais offers French-language mental health telephone support from 8 a.m. to midnight every day. Ottawa residents can call 613-741-6433 and Gatineau residents can contact 819-775-3223.
Kids Help Phone (1-800-668-6868) provides confidential phone and web counselling for children ages 20 and under, 24/7.
Youth Services Bureau (YSB) provides youth and family counselling, crisis support, a 24/7 crisis line at 613-260-2360, walk-in counselling and an online crisis chat service for youth at http://chat.ysb.ca.
Ottawa Rape Crisis Centre: The ORCC supports and empowers trans and cis women, trans men, two-spirit, gender-fluid, and non-binary survivors. The crisis line provides service 7 days a week to survivors of sexual violence, supporters, family and friends of survivors. Accompaniment can be arranged through the Crisis Line to hospital and police. Reach someone now by calling 613-562-2333.
Fem-Aide (Violence envers les femmes) Fem'aide est disponible 24/7 : 1-877-336-2433.
Good2Talk: for post-secondary students, available 24/7: 1-866-925-5454.
Centre des services communautaires/Vanier Community Service Centre, Crisis counselling: 613-744-2892 ext. 0
The Ottawa Pastoral Counselling Centre Telephone Counselling: 613-235-2516 x 0
Crisis Text Line is powered by the Kids Help Phone. It's open to adults who would rather text someone about their crisis. Crisis Text Line provides access to free, 24/7 support and information via the medium people already use and trust: text.
The National Overdose Response Service (NORS) is a national phone-based overdose prevention service to support Canadians and countless Indigenous communities. The service works by calling 1-888-688-NORS (6677). A caller is then connected to a virtual overdose supervisor who will monitor them for 15-30 min after they use. During the call, if there is a concern of overdose, such as the client becoming non-responsive, the supervisor will connect with local 911 dispatch services.
Ottawa and the counties of Prescott Russell, Renfrew and Stormont
613-722-6914 (Dundas and Glengarry)
1-866-281-2911 (Leeds and Grenville district)
613-732-3675 ext. 8116 or 1-866-996-0991 (Pembroke Regional Hospital Mobile Crisis Team)
Counselling Connect
Information lines:
Call 2-1-1 for information on the full range of community, social, government and health services and programs available in Ottawa and how to access those services.
Jewish Family Services Ottawa telephone counselling: call 613-722-2225 or email info@jfsottawa.com for more info.

Ottawa Public Health has created an awesome portal on their website to support mental health during COVID-19.
Check it out by clicking here.
Sections include:
Didn't find what you're looking for? Visiting from outside of Ottawa? Check out CMHA Ontario's list here.

For clients of CMHA Ottawa and individuals experiencing severe and persistent mental illness and/or substance use disorder, please note that the resources listed below (BounceBack, Tips to manage, Coping with stress, etc.) are not intended to be a substitute for professional help, diagnoses, or intensive case management.



BounceBack is a free skill-building program managed by the Canadian Mental Health Association (CMHA). It is designed to help adults and youth 15+ manage low mood, mild to moderate depression and anxiety, stress or worry. Delivered over the phone with a coach and through online videos, you will get access to tools that will support you on your path to mental wellness.
The team at BounceBack has increased their capacity amid the COVID-19 pandemic.
Community Services Information and Referral
211 Ontario
Find community, social, health and government Programs and Services near you.
Dial 211 (Toll Free: 1-877-761-9076) or https://211ontario.ca/
CMHA Programs and Services
CMHA Ottawa offers a variety of services and programs that are accessible to both the public and other support organizations. See CMHA Programs and Services.