You are currently on the:
CMHA National
Visit our provincial websites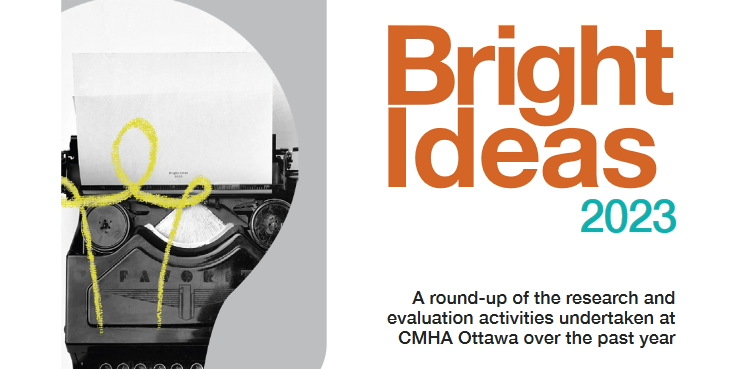 Download it now: Bright Ideas 2023 Proceedings Report + Video Recording
Nov 15, 2023
The day-to-day work that takes place at CMHA Ottawa is innovative, impactful, varied and compelling. We work every day with eligible individuals in the Ottawa area who are experiencing a mental illness and/or substance use disorder, providing evidence-informed and person-centered programs and services that empower individuals and promote good mental health.
As a community-based agency, we provide outreach services, case management, housing, counselling, specialty services, training and more. This range of services makes our organization a suitable setting for important research and evaluation projects that will make lasting contributions to the field of mental health and addictions services.
Every year, our staff and clients work with researchers and students from the University of Ottawa, Carleton University, and others on a variety of research and evaluation projects. These research partners play a critical role in supporting our agency in achieving its mission.
---
Presenting Bright Ideas 2023
On May 26, 2023, CMHA Ottawa hosted its second annual virtual event titled Bright Ideas 2023: A round-up of the research and evaluation activities at CMHA Ottawa over the past year.
The webinar event, presented live to an audience on Zoom, featured researchers from various disciplines as they described the range of projects that they worked on with CMHA Ottawa during 2022–2023. Scroll down to see the agenda in full.
A proceedings document has been compiled, summarizing the event's presentations and opening and closing remarks. The visually pleasing and highly informative PDF document also includes each presenter's PowerPoint slides, publications, and the event recording.
Download the Bright Ideas 2022 Proceedings Report here: Proceedings Report: CMHA Ottawa presents: Bright Ideas 2023
---
Bonus: Watch the video! Check out the recording of the series of 15-minute presentations by student researchers on their respective fields of study, all within the CMHA Ottawa environment, on YouTube.


---
Bright Ideas 2023: Agenda
Opening Remarks: Tim Simboli & Tim Aubry
Research and Evaluation of Cutting-Edge Interventions
1. An Examination of the Effectiveness of Smoking Cessation Treatment Interventions for Individuals with Severe Mental Illness: A Pilot Randomized Controlled Trial. Presented by: Dr. Donna Pettey, CMHA Ottawa
2. Community Mental Health Services for Frequent Emergency Department Users: Qualitative outcomes perceived by service users and case managers. Presented by: Jonathan Samosh, PhD Candidate, Clinical Psychology, University of Ottawa
3. The Social Prescribing Project: Early findings from a needs assessment. Presented by: Minda Wood & Elyse McCall-Thomas, PhD students, University of Ottawa
4. Fresh Veggies for Clients of CMHA Ottawa: A pilot project evaluation. Presented by: Danielle Charland, Undergraduate Medical Education (UGME), Faculty of Medicine, University of Ottawa
Understanding the Needs of Service Users
1. Needs Assessment for Discharge Planning from Intensive Case Management Services at CMHA Ottawa. Presented by: Valerie Schutte & Alathea Hayes, students in the Graduate Microprogram on Evaluation of Social and Health Programs and Policies, Faculty of Social Sciences, University of Ottawa
2. ICM Length of Time in Service: Characteristics of people in ICM longer than 5 years. Presented by Dr. Maryann Roebuck & Todd Bridger, CMHA Ottawa
3. Primary Health Care Needs Assessment (Stella, Tierney, Stragapede)- TBD.
4. Review of Best Practice of Anti-Psychotic Medication Initiation. Presented by: Frank Djimbouon, Undergraduate Medical Education (UGME), Faculty of Medicine, University of Ottawa
Implementing Services that Work
1. CMHA Court Outreach System Navigator Evaluation. Presented by: Kari Deurksen & Daniel Machado, Clinical Psychology Interns, University of Ottawa
2. CMHA Ottawa's Recovery College Pilot Program: A Formative Evaluation. Presented by: Omar Ugas, CMHA Ottawa, & Kari Deurksen, Clinical Psychology Intern, University of Ottawa
3. Developing an Organizational Culture of Supervision in Community-Based Mental Health. Presented by: Jason Platts & Teresa Muelensteen, CMHA Ottawa
4. Collaborative Research in Mental Health Social Work Education 2023. Presented by: Brenda Morris, Instructor, Carleton University; Tim Simboli – Executive Director, CMHA; Cynthia Schreiber, MSW, CMHA; Ann Gallant, MSW student, Carleton University; Cory Gostick, MSW student, Carleton University
Closing Remarks: Todd Bridger

OUR OBJECTIVES:
To highlight the purposes and uses of research and evaluation in the organization;
To encourage transparency (sharing the work that CMHA Ottawa staff and clients have been a part of);
To identify lessons learned, opportunities for improvement, and the high quality of our services – all identified and explored within these initiatives; and,
To share next steps and "what this led to."