Quarantine

 without a smartphone, can you imagine it? 

 





From the onset of the COVID-19 pandemic and its related physical-distancing and self-isolation orders, the Ottawa branch of the Canadian Mental Health Association 

(CMHA Ottawa) 

has placed digital connection with its clients

 and the clients of its partner

 agencies

 among its very highest of priorities. But when 

many of the clients are experiencing chronic homeless

ness

 or poverty, establishing 

that crucial means for social 

connection 

requires some in

genuity

.

 





That's why the agency's 

leadership team 

made the decision early on to purchase smartphones and data plans and distribute them to 

their

 most marginalized of clients.

 

 





Here is just one of the stories of how that

 initiative ha

s taken shape.

 
In the blink of an eye. 
Growing up in the Maritimes, James had a decent lifestyle for the most part.  
As a child he had a learning disability that led to some difficulties in the classroom, and he had a speech impediment that garnered the attention of bullies, but all told, James says his childhood was not too bad. 
As an adult, his luck trended downward. He got married, but the marriage was doomed because his family never quite accepted his wife as their daughter-in-law. The relationship didn't work out. When James' mom fell ill and passed away, he found himself alone and turned to drugs, which took over his life for a while. 
The city he was living in was not the place for him—too many bad memories. In his late 40s, James uprooted his life and moved to Ottawa. It went well at first for him in the nation's capital, he found a job right away, but things deteriorated when it didn't work out. 
Sleeping with one eye open. 
Long story short, James wound up experiencing chronic homelessness. It wasn't his intention to live an extended stay at the shelter, but that's what happened.  
James was used to independence before life at the shelter. Just walking into the place for the first time he found a whole different atmosphere from anything he had experienced prior. Despite its great staff, his experience in the shelter was a challenging one. He found himself living in tight quarters; he slept with one eye open.  
This way of life created paranoia in James. He would have to wolf down every meal, for example—if he looked away for a minute someone might snatch food off his plate.  
James became institutionalized. He would have to eat and go to bed at a set time every day, looking over his shoulder all the while. He says the food was good, but due to high demand, the portions weren't big enough. 
James was struggling with depression and anxiety, and his physical health was deteriorating. Staff at the shelter were great to him—they went out of their way to help him out, but he needed more support—he was working on finding housing but not getting any results. One day outside the shelter he overheard another man speaking to a worker from CMHA Ottawa (Brendon from the housing outreach team) and when the moment was right, James jogged up and struck up a friendly conversation.  
"He was just getting in his car," says James. "I went up to him and introduced myself. I said, 'I don't mean to be rude, but could you tell me about your organization?' … and the rest is history." 
In fact, James had been aware of CMHA Ottawa and was on the waiting list. A week after they met on the street outside the shelter, James was matched with Brendon—a wonderful coincidence in James' view, because he and Brendon had hit it off in that first meeting. 
A place of his own. 
With Brendon's support, and the help of the housing team at CMHA Ottawa, James found a place of his own—a most fortunate turn of events which would soon be emphasized by the arrival of the COVID-19 pandemic.  
Now James says he now sleeps with both eyes closed. It's nice not to have to sleep with all his valuables on his person—he relishes the freedom of being able to put something down on the table in his own place and it's still there when he gets back. 
James is no longer on edge all the time, and his substance use has decreased dramatically. While he admits he second-guesses himself quite a bit—two years of having his life outlined hour to hour in the shelter system has made its mark on his psyche—he's settling in nicely and has gotten to know his neighbours. 
But since the beginning of the self-isolation order, there's no denying that 24 hours makes for a long day when you're living alone.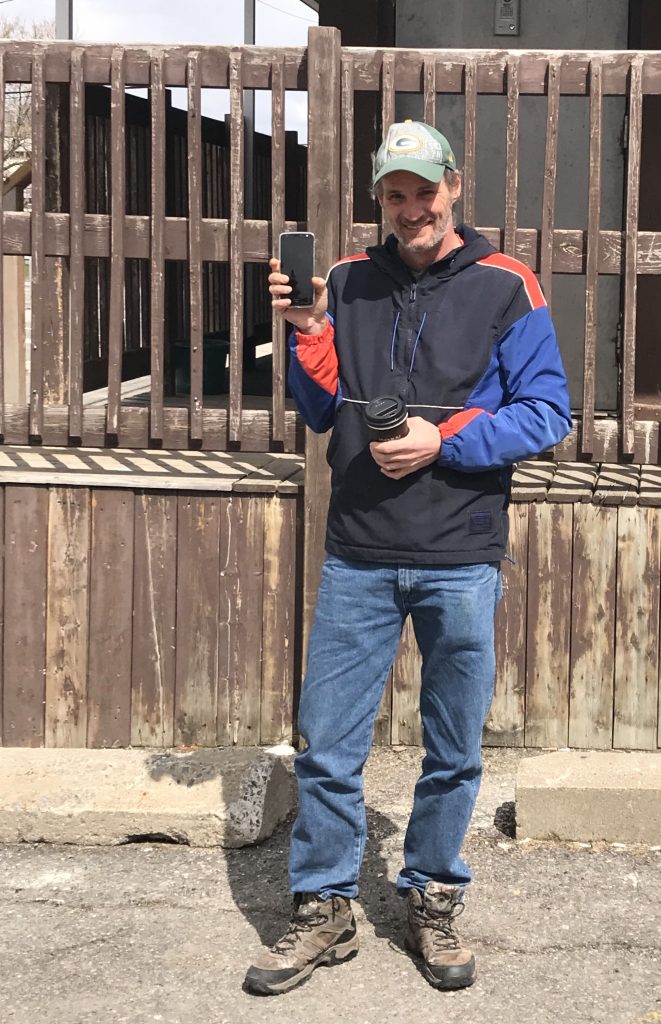 Connection is a right. 
Fortunately, Brendon received word that CMHA Ottawa would be providing smartphones for its clients in need. As soon as Brendon got his hands on one of the smartphones his manager put aside, he wasted no time in (safely) delivering it to James. 
Equipped with a smartphone and data plan, James can call and talk to Brendon without any barriers. He can talk to his friends and re-establish lost connections with family. He's able to stay on top of his physical health concerns with regular clinic check-ins over the phone. He's downloading apps to look after his wellness and develop his insights and creativity. The phone also provides James the entertainment so many of us take for granted. 
"The change in James since finding housing is night and day," says Brendon. "He was in survival-mode in the shelter. Now he's integrated into society and he can stay integrated." 
James has accomplished a lot since around two years ago when he arrived in Ottawa. The journey that led to him living in his own home is the result of lots of hard work and dedication. Going forward, the smartphone and social connection it brings will only serve to propel James in his recovery process.  
We at CMHA Ottawa believe that everyone has a right to meaningful social connection. Since the onset of the COVID-19 pandemic, our agency has distributed more than 150 phones, five laptops, five TVs and some portable radios to our clients (so far).  
We will continue to make the case and work hard toward technological parity in the time of COVID-19 and beyond.