COVID-19 UPDATE
As we are currently unable to provide classroom based training, we are proud to support the LIVING WORKS START program.
If you are looking for an interim solution for Suicide Awareness training, CMHA Ottawa is offering the Living Works START program online for a discounted rate of $27.95 per person.  You can purchase your individual license by clicking the link below.  A portion of all proceeds are donated to COVID-19 relief efforts.  The discounted rate expires on December 31st, 2021 at which point the individual cost of the program will be $39.95.
The course is 60 minutes, self directed and entirely online.  LivingWorks Start teaches trainees to recognize when someone is thinking about suicide and connect them to help and support.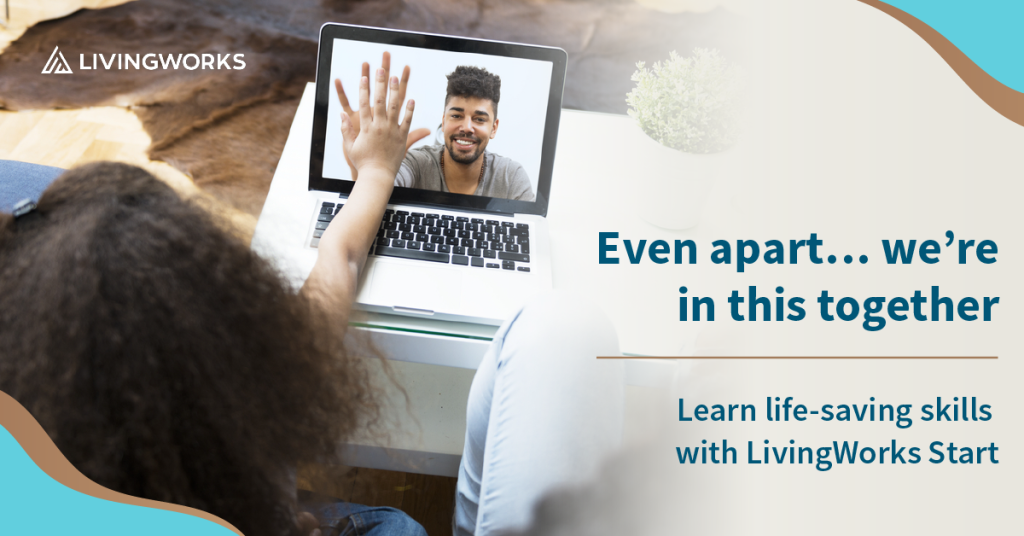 ---
About the Course
During suicide2Hope (s2H), participants reflect upon their qualities as helpers—the beliefs, values, and attitudes they bring to the relationship. They also learn about various meanings of suicide experiences and discover the opportunities for recovery and growth they present.
More specifically, Suicide2Hope is structured around a three-phase Pathway to Hope (PATH) model. The Understanding Phase focuses on exploring and describing barriers to recovery and growth. This establishes a foundation for the Planning Phase, involving the formulation of recovery and growth goals and plans. The Implementing Phase focuses on monitoring progress and reviewing the process.
Clinicians and professional helpers who attend the s2H workshop learn how to use this model collaboratively with those they serve. The workshop is highly interactive with a mix of large group and small group discussions and simulations.
Learning Objectives
Apply a recovery and growth approach for persons previously at risk of and currently safe from suicide.
Describe how suicide experiences provide an opportunity for recovery and growth work.
Recognize how their Helper Qualities might impact recovery and growth work.
Understand a schematic of common issues and related recovery and growth opportunities.
Apply a model for setting recovery and growth goals as well as a framework for monitoring and coordinating recovery and growth work.
Target Audience
This workshop is targeted to practitioners who work with individuals who have previously been at risk and are currently safe from suicide.
Course Details
Duration: 1 Day
Location: TBD
Training Room: TBD
Time: 8:30am-4:30pm
Cost: $300
---
For additional questions or information please contact our Learning & Development team at education@cmhaottawa.ca or call us at 613-737-7791 ext. 217.