COVID-19 UPDATE
As we are currently unable to provide classroom based training for this program, we are proud to support the LIVING WORKS START program.
If you are looking for an interim solution for Suicide Awareness training, CMHA Ottawa is offering the Living Works START program online for a discounted rate of $27.95 per person.  You can purchase your individual license by clicking the link below.  A portion of all proceeds are donated to COVID-19 relief efforts.  The discounted rate expires on December 31st, 2021 at which point the individual cost of the program will be $39.95.
The course is 60 minutes, self directed and entirely online.  LivingWorks Start teaches trainees to recognize when someone is thinking about suicide and connect them to help and support.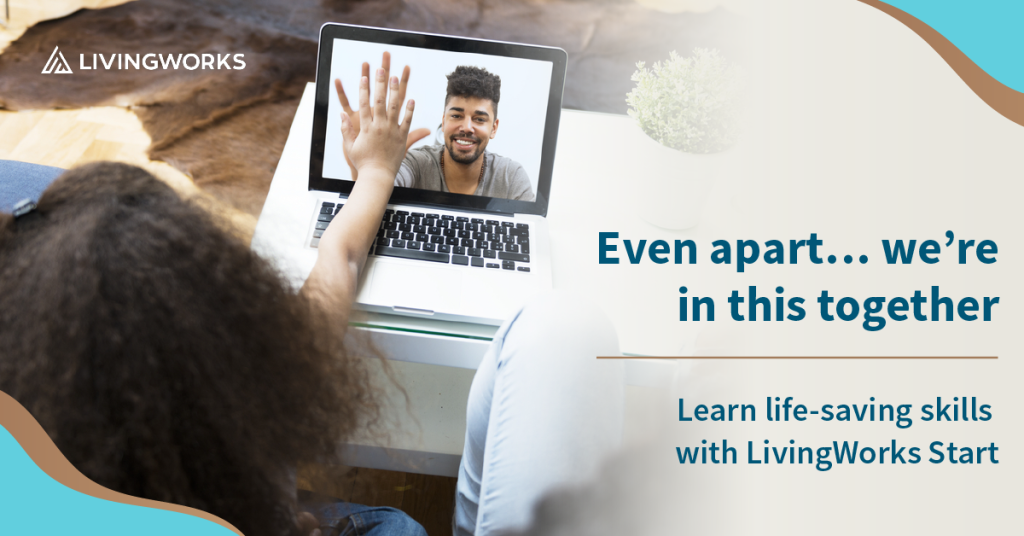 ---
Applied Suicide Intervention Skills Training (ASIST) is the standard training experience for suicide prevention in our community, presented in collaboration with LivingWorks.
About the Course
ASIST is a two-day interactive workshop in suicide first-aid. ASIST teaches participants to recognize when someone may be at risk of suicide and work with them to create a plan that will support their immediate safety. Although ASIST is widely used by healthcare providers, participants don't need any formal training to attend the workshop—ASIST can be learned and used by anyone.
Learning Objectives
By the end of the workshop, participants will be better able to:
Identify people who have thoughts of suicide.
Understand how beliefs and attitudes can affect suicide interventions.
Understand a person at risk's story about suicide as well as recognize turning points that connect the person to life.
Conduct a safety assessment and develop a plan that will keep the person at risk safe for now.
Confirm the person at risk's faith in the safe plan and their intent to follow it through.
Target Audience
All caregivers, formally designated or not; adults and youth 16+.
Course Details
Duration: 2 Days
Location: TBD
Training Room: TBD
Time: 8:30am-4:30pm
Cost:  $300; $250 (students)
---
For additional questions or information please contact our Learning & Development team at education@cmhaottawa.ca or call us at 613-737-7791 ext. 217.
About LivingWorks
LivingWorks is a public service corporation whose vision is enhancing resources today and saving lives for tomorrow.  Our mission is to create learning experiences that help communities prevent suicide.  We train locally-based trainers so that the benefits of our programs live on in the community.  Local resources can better transfer learning to others in the community in a cost effective manner.
LivingWorks monitors quality, updates programs and supports the international trainer resource network.  The aim is to have all of the benefits of local resources plus the advantages of a central organization dedicated to quality.
Working with caregivers of all kinds, LivingWorks prepares helpers to competently intervene with a person at risk of suicide.