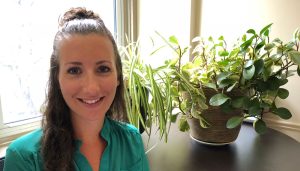 We're extremely grateful to our partner organization the Ottawa Mission for their continued support in helping individuals living with a mental illness and experiencing chronic homelessness. For Mental Health Week they profiled CMHA Ottawa's Robyn Henderson, who does intensive case with Mission clients, in an on-line story:
"May 6 – 13 is Mental Health Awareness Week in Canada. Last year, we profiled Robyn Henderson, a Social Worker with the Canadian Mental Health Association (CMHA) who has worked within the Ottawa Mission for the past three years delivering intensive case management to clients dealing with long-term homelessness and severe mental illness. This week, we provide an update on her important work.
For clients who have spent significant periods of time in shelters, independence can be a daunting process. Robyn works hard to build rapport and earn their trust. One of Robyn's most remarkable success stories is securing and maintaining housing for these clients. This achievement is critical as the Mission moves to implement the pillars of its new strategic plan, including enhancing its focus on securing and maintaining housing for its clients. Last year the Mission housed 230 people.
According to the Auditor General of Ontario, over 50% of people within Ottawa's emergency shelters have reported a past diagnosis of mental illness, a number far higher than that of the general population. Clients with persistent mental illness face significant barriers to care and support given the impact of their illness on their understanding of their situation and the stigma that surrounds both mental illness and homelessness.
"Securing and maintaining safe and affordable housing for individuals living with severe mental illness and who have lived in the shelter for many years is challenging. Apartment vacancy rates are very low and it is difficult to find private landlords who will take part in affordable housing programs. The need for low barrier supportive housing and subsidized apartments is immense resulting in long waitlists. I consider it an honour to help navigate the path to independence for these clients and support them on their journey."