Innovative Housing First solution explained in new video spotlight by uOttawa researchers
In 2019, a team of researchers from the Centre for Research on Educational and Community Services (CRECS) at the University of Ottawa conducted a case study of the successful CMHA Ottawa condominium supportive housing program, which resulted in the release of a helpful toolkit for program replication in 2021.
By providing a snapshot of that research, CRECS and the uOttawa Faculty of Education point a spotlight on this innovative supportive housing solution and shining example of Housing First in action. Through interviews with researcher Stéphanie Manoni-Millar, program manager Lisa Medd, and a tenant of the condo program, viewers can learn more about the research behind the helpful toolkit and the people behind the successful program.
Available for viewing now on YouTube, CRECS Research Spotlight: CMHA Ottawa Condo Program Toolkit looks at the CMHA Ottawa condo program and the toolkit prepared by CRECS researchers that will make it easy for organizations to replicate the program.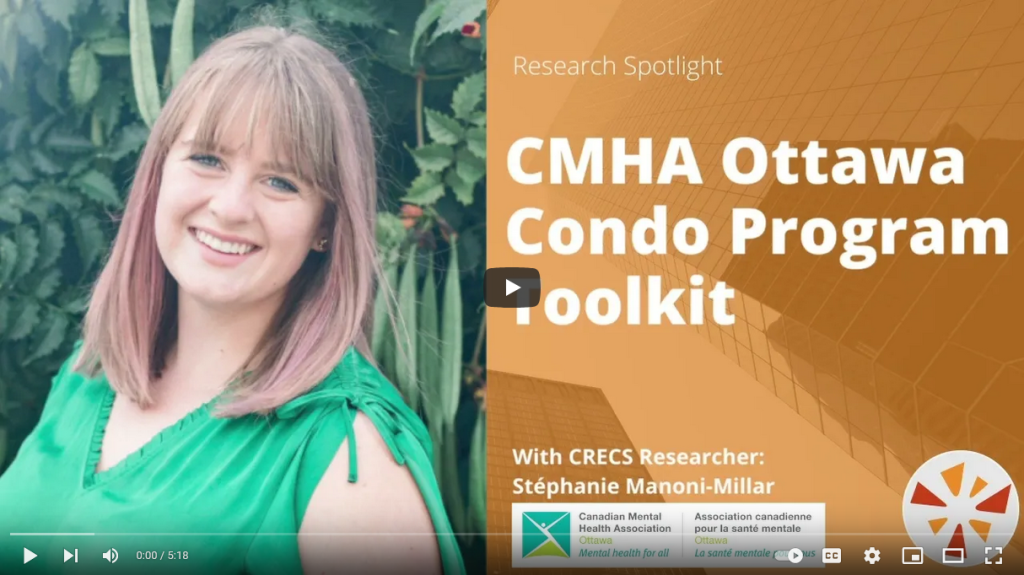 Watch it now: https://youtu.be/olLo4fNOyAM 
The Canadian Mental Health Association, Ottawa Branch (CMHA Ottawa), owns and operates 40 condominium units with a scattered-site approach, providing stable, dignified housing for clients of the agency (eligible unhoused individuals in the Ottawa area with a mental health and/or substance use disorder), while helping address a societal need and fostering recovery. By purchasing existing housing stock (condominium units) throughout the city and functioning as a landlord (with social supports available as needed), organizations can reduce homelessness and help individuals get back on their feet with the best chances of success.
Download the toolkit and learn more by visiting the CMHA Ottawa website here: https://ottawa.cmha.ca/cmha-ottawa-condo-toolkit/
Toolkit credits: Ayda Agha, Maryann Roebuck, and Stéphanie Manoni-Millar with Dr. Tim Aubry and Dr. John Sylvestre.
Video credits: Produced by Sonia Vinogradova and Lauren Hamilton from Seed and Soil Marketing with Holly Adam and Katherine Moreau from CRECS and the Faculty of Education. This video project was funded by the Office of the Vice President of Research and Innovation at the University of Ottawa.