One person's story of the propelling power of visual art through the twists and turns of a mental health journey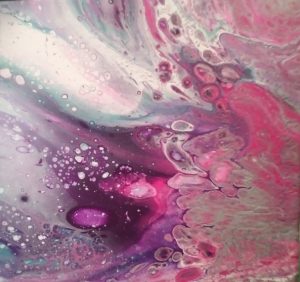 Imagine walking in a labyrinth made of walls built from see-through stones with surprising colourful experiences happening at each corner and on every detour. The sun is shining in and sometimes clouds cover the sky. I am not alone in the labyrinth, of course. I often come across people. Sometimes we barely notice each other, at other times we walk awhile together. I even happen to meet some of them again and reconnect with them. Often, I do not join them because I am too curious about my own path.
There are places to rest and there are places at which I spend a lot of time. The walls of the labyrinth are not exceedingly high, and if I lift my head, I can see other people, neighbours, friends, family, and strangers. We are all on our journey through life.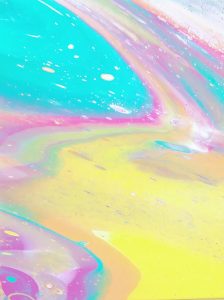 One day, I was resting in one of the corners. I had a dream where I saw paintings with a lot of turquoise and gold. The same dream came again and finally I began to pick up paints, a brush, and a canvas. I have since been drawing with markers and painting and experimenting with collage and mixed media and textured backgrounds. That was several years ago and up to this day even just gluing differently textured pieces of paper and fibre to canvas and painting over it later is always fun even if I do not feel in a creative mood. You do not wait for creative moods in general. You just start and see where it leads you.
I discovered how much I enjoy seeing patterns in nature and taking photos of them. I got into paint pouring, a process where you must master the technique of mixing paints with different ingredients first. They will then be poured onto a canvas where they create beautiful abstract swirls and bubbles that are called 'cells'. It can be quite tricky until you figure out how to get the best results. I like those pourings best that resemble nebulae or ice cream. I love bright colours, gold, and black. Some paintings with a lot of black and some neon remind me of a black night sky with stars.
Bright colours like pink and orange have this uplifting effect on my mood. It feels like I literally get energy from the colours. Many years back I painted my whole kitchen in a bright pink colour including the ceiling. It looked funny but it brightened my day and I never regretted doing it. We just need things to lift us out of the gray of everyday life, away from the bleak views of winter or brighten our day in the depth of depression. There are things that can make us feel better even by looking at them for a few moments. Especially those of us who suffer mental health issues like anxiety, depression and worse, need good things in our lives, positive vibes.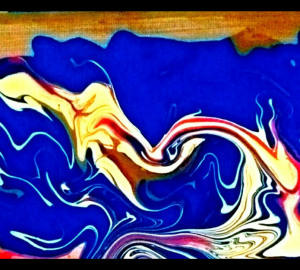 Creating art, in whatever form and for whichever reason, is simply liberating. There are no rules, there is no judge. Nobody tells you what to do. It comes from inside you. My art sometimes reflects something that is stored in my brain, an image I saw somewhere or a video I watched that stirred up intense emotions. It is called impulsive art when you just do what you want to do with paints. Currently, most of what I create has a lot of black in it. It is like a blob of darkness needs to come out of me and I put it on canvas without any expectations. These are the moments where I encounter myself and my experiences. How this happens is a mystery to me. It is like understanding a foreign language that I never learned.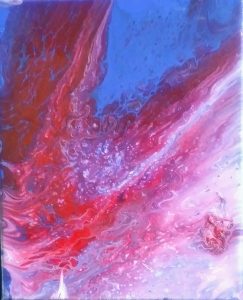 I always carry pens and markers in my backpack on my journey through the labyrinth. I would feel lost without them. I know art is there for me and I have painted and drawn in doctors' waiting rooms, in the dark of a rideshare car to Montreal (I called it a blind drawing experiment), on the bus (only when I do not happen to knit on the bus) and in coffee shops. Coffee shops are my preferred spots. I have painted in drop-ins and in shelters. I simply do not feel self-conscious. I feel good.
Many artists have no formal training, but we learn along the way. It is more than trial and error. We gain experience, we learn about colours and material, patterns, shapes, and faces, you name it. That is how artists can communicate across their specialties. They share the experience of freely creating from the inside out. In the days of video tutorials, we can easily access a lot of ideas, documentaries about art and artists as well as techniques. This forms our tastes and shows us new things to try.
Some organizations offer free art classes. This way I found a lovely art teacher who works with people with different abilities. Encouragement from art teachers, therapists and peer support workers has made a big difference in my life, as has a group of local Indigenous artists who created the No Borders Art Festival. In its third year, this small group has organized exhibitions and given artists—experienced, mid-career and beginners from the BIPOC, Indigenous and all other equity seeking communities—a chance. Artists are a community of vastly different individuals. I am excited that I became part of this community. People who do not have a career in the job market also miss out on a lot of social interaction.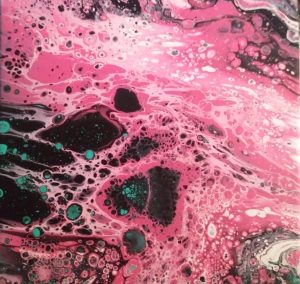 My personal journey, as described in the metaphor of the labyrinth, taught me to appreciate the support I have received both as an artist and as a person encountering mental health problems. My goals are not as important as living in the moment, although I do have plans. I would like to make huge paint pourings, which are harder to do than smaller ones due to the weight of the paint, the tricky drying process, and the importance of factors like humidity and temperature. I will try it anyway. I do not bother with the possibility of failure. If it does not work out, I will paint over it, use it as a background or happily cut the canvas into pieces and incorporate it into a mixed media project. I barely throw anything away. I recycle cardboard boxes from food or appliances into canvases. The bigger the corrugated cardboard, the better. It will turn into something. Until then I call it an 'experiment'.
Lisa S. is an Ottawa-based artist and writer. She was born in Austria.
Did you enjoy this story? Check out more Stories of Inspiration.
More content:
---


Willow's Song — Unconditional Gifts is a poem by Kurtis Kitagawa, written in February 2021.

Kurtis Kitagawa, PhD, is an advocate, consultant, lecturer, trainer, facilitator, writer, and researcher. He has worked in the political, business and academic sectors. Kurtis is also a member of the CMHA Ottawa Peer Engagement Advisory Council (PEAC). He is based in Ottawa.
(For Emily Frances on her thirtieth birthday, from her father, with love)
1.
When I was very young
I was surprised to see a sunflower grow
From the seeds we spit
Such an unconditional gift
From the seeds we so casually called spits
2.
Today
My fingers slipping over an avocado seed
I wonder
If I planted that impossible seed
Would it grow into a tree?
And would it bear fruit
Like the striped sunflower seeds?
Or would it be barren?
Would it vex the passersby? — Unconditional the promise
Of seeds that step and rhyme
3.
We are told our prayers are not in vain
If we are open like flowers
To the answers
That come on the legs and knees of bees
Careless
Of tolls and warnings
4.
Love is profligate like the wild rose
That perfumes the trail to the creek
Equally sweet
For coyote
And mule tail deer
And the passing of any other feet
Unconditional is the scent
Of morning
5.
So who would curse goodness out of season
Like Mark said Jesus did
Of the fig tree
That had leaves
But was not heavy with fruit?
Would anyone come or dare to try
Or cop a taste
When the tree were past flowering
And come into its proper season? — Unconditional are the ladings
Of nature
6.
I remember a girl thrilling
At a packet of giant pumpkin seeds
From the prize-winning grower
In the Annapolis Valley
Whose fruit was taller than the mountains
On either side of his patch
Unconditional is imitation
Even more so than flattery
7.
I knew two sisters
With auburn hair
The kind some say is kissed
By the flames
Of fire raging
In the Celtic gene
The kind the Irish call a true red
Not the carrot top
Or the strawberry blonde
8.
Have you ever held a buttercup
Under your chin?
And is it true that you like butter?
9.
And what of freckles?
Are their bearers' faces and shoulders
And forearms and hands
Kissed by the light
Of the sun?Do these cheerful marks fade
When you wash them with the Spring's first dew?
Do they intensify and multiply
Making a mask
As you go through pregnancy
Or dance in the Summer breeze?
Or are they the handiwork
Of witches
Who do not bleed
When they are pricked
With a bodkin or a pin?
Or are they celestial maps tattooed
On the Gaels' faces and necks
Telling them the seasons
When to plant
And when to sow
Wherever the winds take them
Wherever they have to go? — Unconditional is the scattering
Of seed
10.
On this day
A cardinal flew
From a nest in the cedar hedge
To a perch
On a bare branch
Exchanging cover for camouflage
As January's shadow lengthened
Portending Spring
And the return
Of lifelong mates and songs
You asked me how I knew
It was a female cardinal
And I said it's because
Of her colouring
Rust red rather than crimson
And because it was a smaller bird
It's like people
I explained
Males are pretty and proud
Spreading their tails
To show their distinctive blue plumage
While the beauty of females is more subdued
More subtle are their winning charms
Unconditional are the graces
Of faith and hope and love
11.
It is said the consequences
Of Prometheus' theft
Of fire
And the doubtful wisdom
Of Icarus
With his waxen wings
Taking flight
And passing too close to the sun
It is said the price
Of such hubris comes
On cat's feet
Without the warning
Of a bell
It is known
Pride must suffer pain
So every bird knows
When he feels the swipe
Of a cat's paw
Or the bite
Of her tentative teeth
Unconditional the surrender
Of reason
12.
Today I felt the warmth
Of the morning sun
And stung
From the scratch
Of the frigid wind
I felt the daily miracle
Of the new dawn blessing
On my cheeks
And surely everyone deserves this much love
From the common stock
They say one can live
Of love and air
So let me hold this breath close
To my belly
Sometimes smiles come as easily as cries
Unconditional the breath and the breathing
13.
In the city you must take wildflowers
Where you find them
It's rare you will be able
To sit and make a chain of daisies
More likely you can make a crown
Of chicory
The poor man's royal blue
Or fleabane or aster
A regal mauve — for the robes of Summer
While they may not be bright
Yet they are strong
And serviceable
Needed only for night
Or the passing of the bee
Or the short burst of a sparrow
Unconditional the fruits
Of the season
14.
So satisfying the strength
To stretch the elastic
Of passing days
And times out of season
To love again
When still stinging
From partings that came too soon
From endings that were not your choice
From half crumbled puzzles
And rubbed, pied type
Unconditional the spirit
Of mended strife
15.
Be simple
Of single heart
Because it is good and sweet
To taste and eat
To suck and savour
To greet your day
With love and blessings
With hope
And all good wishes
For all that comes
But regrets and resentments
Grasping the fingers and hands
Of unexpected honey
Forgiving the stickiness
On tongues and lips
Because they remind you
It is sweet and good
To praise each and every day
Like the Psalmist
Because it's right
Because it's grand
Because you can
Unconditional this morning and all
From the hand of plenty
16.
Consider the flower and the tree
Whose rhythm is independence
Whose beat is freedom
Whose phrasing is chant
Whose cadence lies in seasons
Of the drumWho know
Freedom can't be given
Or taken away
Or held
Or possessed
Or owned
But like love must be lived
And reinvented independently
Of frost
Or flower
Or storm
Unconditional
Not hard are the gifts
Of Spring
17.
Now take my words
And make them your story
Neither to follow
Nor to lead
But to explore
And be your own example
And set your own course
Unconditional are the lessons
That come first
18.
I await my daughter's birthday
Thirty come February the fourteenth
Thirty come rain
Or come storm
Unconditional are the blessings
Of youth
19.
Now I look forward
To grandson
Or granddaughter
A playmate for Sage
20.
When will we be free
To see one another
To have our next moments
To hold our hopes
Like bears shedding furs
And dens
For warm hugs
And the kiss
Of foreheads?
21.
Will I be Jonah
And emerge
With the krill
From the jaws
Of the whale?
22.
Will you be the fisherman's wife
And want the sun
And the moon
And the stars?
Or will we settle
For this tea
And that bread
And a fire
And a place to lay our heads?
23.
When our supper is ended
Will we clear the table
And wash the dishes
And dry them
Before we go to bed
That we may wake
To a clean kitchen
In which to cook
And eat
And do those things again? — Unconditional is repairing the world and beginning again
24.
When sleep comes
To bent limbs
And brittle bones
Will I wake
With the radio
Or when light opens the blinds? — Unconditional is the promise
Of dawn
25.
When you were born
You held my thumb
In your fist
And I wished
For a world that could know peace
For all of your days
And more untold
Unconditional is justice leavened
And tempered
With mercy
26.
Now it is that time of the night
When most are asleep
But others wrestle
With sheets
And blankets
And covers
Their legs restless
For work left
On the table — scraps
Of the feast
Or for things that might be
If mornings come in abundance
Or for mended hearts
And sturdy soles
To carry feet
That once glided
Without stepping
Or touching the floor
Unconditional is the blessing of rest
27.
I have the window cracked
Because the radiator overheats
And I like the air
Though it would freeze my face
If I were to set out
And brave it
Unconditional is the rising sun
28.
I have lost count
Of cantos and canticles
And selahs
And other forevers
But the verses
Like bells chime
And toll
And ring for voices murmuring like springs
And rivers
And times long ago
Unconditional the gifts
That forever run and be
29.
What may I hope
Or come to understand
Or actually be
In the flash
Of a comet
Or under the brooding
Of a super moon? — Unconditional the gifts
Of unfolding destiny
30.
Hearts swell
And overflow
Like seas
Or the tides
Of gentler loves
When the ages meet
And sway their differences away
Dancing
Like the skirts
Of the Girl from Ipanema
Or the sticks
On the drums
On Montego Bay
Unconditional gifts
From the sun and the sea
31.
Now ponder Martí
Guajira guantanamera
Who can say what
The words mean
"I am a truthful man
From the land of the palm trees
And before dying I want to share these poems of my soul
My poems are soft green
My poems are also flaming crimson
My poems are like a wounded faun seeking refuge in the forest"
The last verse says
"Con los pobres de la tierra
With the poor people of this I want to share my fate
The streams of the mountains please me more than the sea"
Now l can rest
As I sit by the streams
Of daughters
And daughter of daughter
And who comes next
In the guise
Of a valentine
Or uncounted other unconditional gifts
In the love
That pauses briefly
And heals completely
And selflessly — no, companionably — resumes its course
Before resting
And beginning again.
Such are the streams
Of my mountains.
— Kurtis Kitagawa, 17 February 2021
---
Related: