You are currently on the:
CMHA National
Visit our provincial websites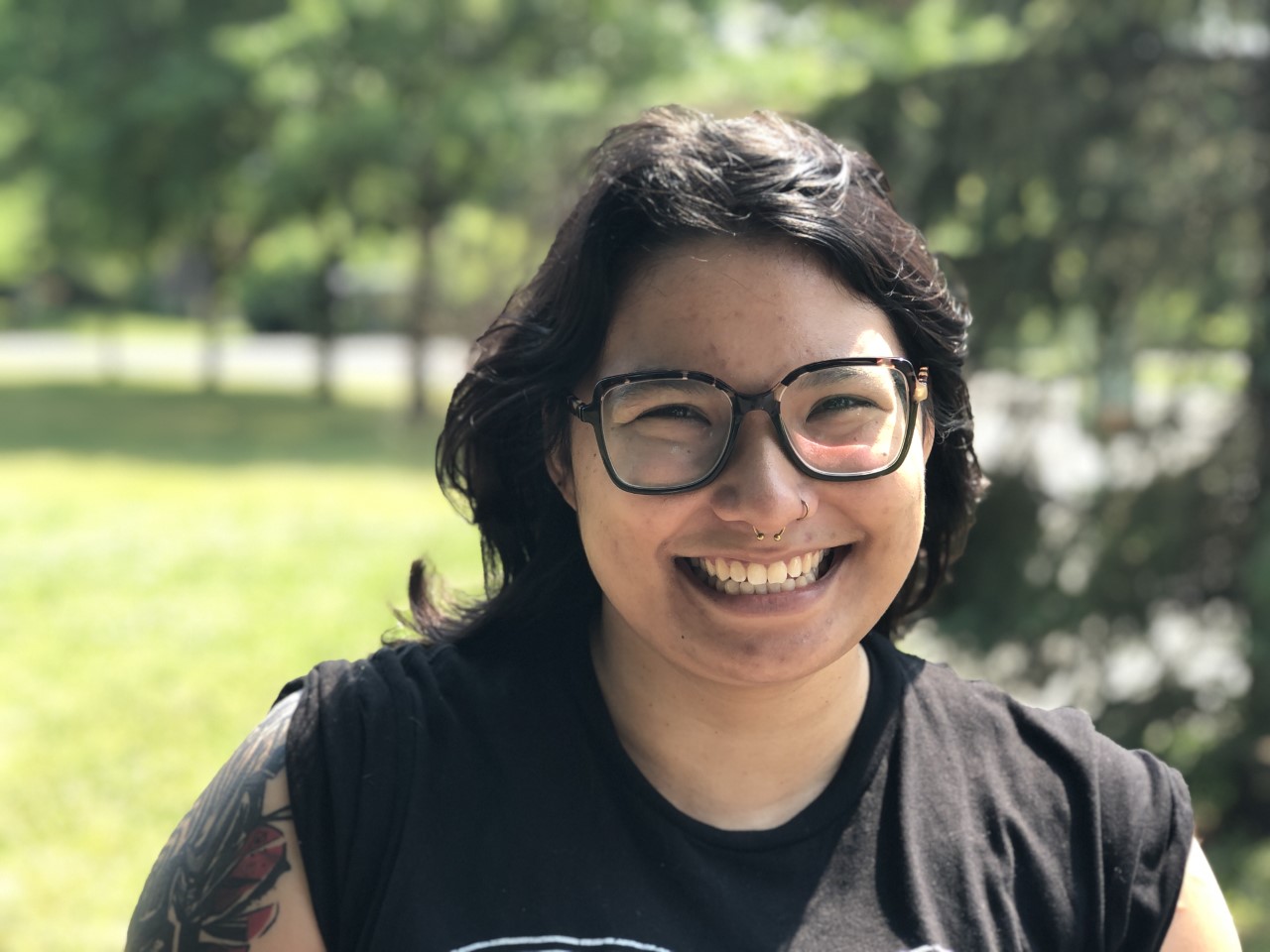 Finding satisfaction in life – meet Taneeta
A former client of CMHA Ottawa has come full circle from being a young person in crisis to someone who provides a safe space for youth in crisis
In 2017, Taneeta (they/them) was in and out of hospital for their mental health concerns. They were a regular visitor to the emergency room for depressive symptoms, suicidal ideation and attempted suicide.
At the time 19 years old, Taneeta was not optimistic about their future. They were a self-described "hell-spawn" when they received an offer of case management services from a CMHA Ottawa youth outreach worker.
At the start of my partnership with CMHA, I was one of those people who genuinely thought I wouldn't make it to 25 and be happy," says Taneeta, "or at least satisfied."
Although they were nervous and hesitant at the time—not knowing what to expect from community-based mental health services—they accepted the offer. Five years later, leading a satisfying life and working part-time with young people, Taneeta is happy they took the opportunity.
It was good fortune that CMHA and Taneeta found each other. As someone who had stable housing and some existing familial support at the time of their intake, they did not fit the most common demographic of outreach client (normally characterized as persons experiencing chronic homelessness in addition to severe and persistent mental illness and substance use).
Ideally, individuals in Taneeta's situation might be more likely to enter service through the Familiar Faces program, or else be found on the MHCSS waiting list, which often takes years.
It took some time for Taneeta to find a groove with the agency. Over the course of their relationship with CMHA Ottawa, Taneeta moved from worker to worker a few times. For example, their first worker went on maternity leave just as the two were beginning to form a bond.
Progress was made little by little. Taneeta says it took a lot of patience on the part of their workers, who would need to adapt to their communication style—Taneeta was closed off and tenacious.
Eventually, they met their match and were connected with Melanie S., the community support worker who would later go on to lead Taneeta to graduation from service.
I wasn't too keen on building another relationship at first," says Taneeta. "I was a little more forward than I'd been at the beginning, but not necessarily open."
Fortunately, Mel was tenacious too. She stuck with Taneeta and helped guide them to a place where they became more comfortable expressing their thoughts and feelings, which proved to be a key part of their recovery.
"It took quite a bit of time for Taneeta to build enough trust to let their guard down," says Mel. "Once we established some rapport, I was able step back more and more, from guiding the support to where Taneeta was then able to take the lead."
Taneeta's hard work led to continued breakthroughs. They began to see the rewards that come from challenging oneself and setting goals.
During their time with CMHA Ottawa, Taneeta also took advantage of some of the additional services offered to clients of the agency, like DBT (Dialectical Behaviour Therapy), and nursing services. But it wasn't always easy.
"It was so hard to get motivated to go out and do things," says Taneeta. "I spent a lot of time figuring out the things that make my life a life worth living. Which was something that Mel used to reiterate constantly."
As a worker, Mel believes in the spirit of Motivational Interviewing, strengths-based case management and trauma-informed care.
Taneeta began to show more and more independence and doing exceptionally well.
Now five years later and graduated from service, Taneeta is on track to get their university degree, studying childhood and youth studies with a double minor in psychology and American Sign Language at Carleton University. They have a partner, two jobs, two cats, and they're a foster parent for dogs.
Taneeta is into hiking and camping. They make time for friends (something they never used to do).
And most importantly, Taneeta has found their calling: working with young people. They're currently employed at the Western Ottawa Community Resource Centre providing group services for youth in the 12-17 age range.
Taneeta has come full circle from being a young person in crisis to a professional who provides a safe space for young people in crisis—a rewarding experience and solid first step toward a bright career ahead.
"I absolutely adore my job," says Taneeta. "I want to be the person in these youths' lives that I didn't have when I was their age."
Having started from a low place, received some help, and worked very hard to get to a good place in life, Taneeta has a message for those who feel hopeless, like they did five short years ago:
No matter how shitty you feel, and trust me, I know how shitty you feel—I've been at the absolute lowest point you can get—there is still hope," says Taneeta. "Even though it doesn't feel like it—and you're going to want to kick everybody who says things like 'there's still hope' (Taneeta laughs)—there is hope! I've made it to 25 and I'm doing OK!"
"If I looked back on the previous me and told myself, 'Hey, you're 25 and you're kinda killin' it', I wouldn't believe me for a second," they continue. "There really is a future in which you can be satisfied. If not happy, satisfied. I would like to say I'm making my way towards happiness."
---
Story originally published in the CMHA Ottawa 2021-2022 annual report: