Virtual Groups
In response to unprecedented times and needs, CMHA Ottawa's Peer Team is offering our clients – our peers – virtual peer support groups. All groups are facilitated by peer support workers, and there are no other professionals present.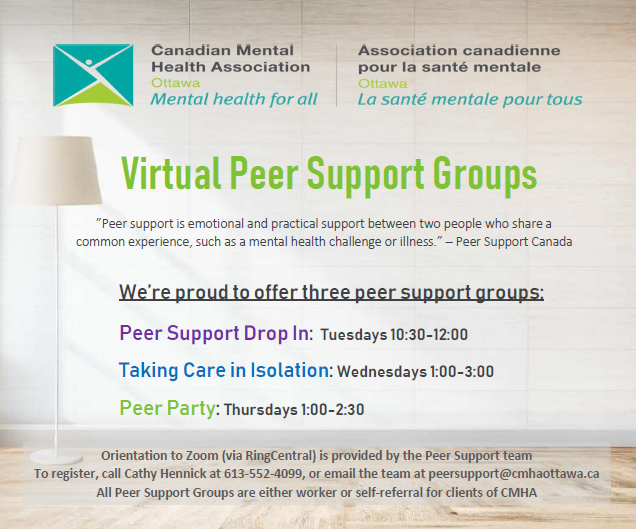 Group Descriptions
Peer Support Drop In – Tuesdays 10:30 a.m. – 12:00 p.m.
This drop-in online peer support group is one in which people get together to share the recovery journey and all the common struggles, opportunities and experiences associated with it. It is not meant to be a treatment or therapy group, but rather a space for participants to talk with others with similar experiences. It is a confidential and non-judgmental space where people are free to share deeply personal insights, experiences and challenges that come from firsthand experience of living with mental health challenges. Download the flyer here.
Taking Care in Isolation – Wednesdays 1:00 – 3:00 p.m.
This group is an online peer group created during the pandemic to offer a platform for clients to explore the many feelings associated with this difficult time. It is a facilitator-guided workshop with slides addressing various issues in helping to provide information and resources, and to encourage clients to reflect and feel safe to talk about and share their feelings. Download the flyer here.
Peer Party – Thursdays 1:00 – 2:30 p.m.
Peer Party is a chance to unwind with people who may have some shared experiences with you. We spend the first half hour checking in and seeing how everyone is doing, and then we play some online games together over RingCentral, or do some trivia games as a group. The great thing is: whatever you learn here you can take with you!  Download the flyer here.
What to Expect from Our Peer Support
What is Peer Support?
Peer support is a supportive relationship between people who have a lived experience in common. In other words, it's when we use our collective wisdom to help each other. In this case, we're supporting each other in our experiences around mental wellness and illness, meeting our needs in a complex system, and finding communities where we connect. Peer support at CMHA Ottawa is based on the intentional style of peer support promoted by the Mental Health Commission of Canada (read more here). We share their core values!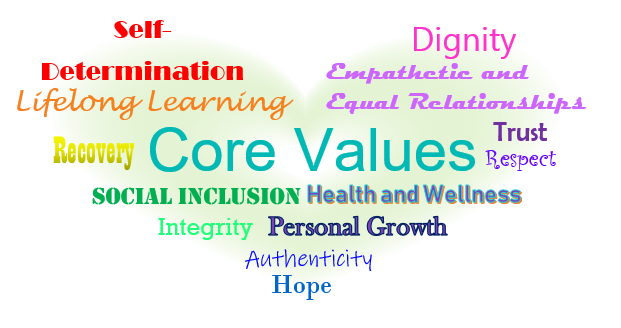 What is a Peer Support Worker?
Peer support workers facilitate our groups. A peer support worker is a person who has lived with mental health issues throughout their life. They have had to develop personal skills and strategies to survive through these issues, and they have had training to make sure that they know how to manage their own well-being and to help you focus on yours. Peer support workers will hold space for you to be yourself without judgement.
What Kind of Programs Do You Offer?
We offer virtual groups three days a week. We provide orientation to the online tools you need and can support you in connecting with us over the phone instead. While we would love to offer one-on-one peer support to everyone, our resources are finite, so while some clients may have access to one-to-one peer support with a referral from their worker, all clients have access to our groups and can self-refer, or your worker can refer you and we'll follow up – it's up to you!
If you're not a client of CMHA, or you're on a wait list, we recommend you visit the, Community Peer Support Resources section of our page.
Am I Ready for Peer Support?
It's natural to have questions when you're asked to join something new. The online mental health forum Mind suggests that these reflective questions might help. Some things our peer support workers have found helpful is talking to a facilitator ahead of time to "check the temperature" or see what kind of vibe each group has and to see if it's a good fit, and to get to know the facilitator ahead of time. We're open to meeting with you and your case worker ahead of time if it will help you find your comfort zone.
A peer supporter is your fellow traveler on the path to recovery.
Meet Our Peer Support Workers
Cathy Hennick – coming soon.
Rebecca Rutland – coming soon.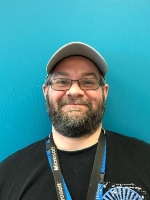 Tyrone – My name is Tyrone. I am a veteran peer support worker in the Ottawa area. I experience and live with voices and parallel realities. My passion is supporting peers who experience these challenges and gifts in various settings, including local hospitals, and according to peer support values and practices. I not only put into practice peer support values, I live them. I have facilitated many different peer support groups and as a result I am very comfortable having challenging and meaningful conversations that push the envelope. Peer Zone is a great opportunity to explore our perspectives on mental health, addictions and life. I look forward to the many enriching and life-affirming conversations that it will generate.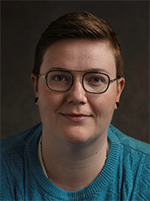 Lars – Lars is a peer support worker with CMHA Ottawa's housing team who began their peer support path through addiction recovery in 2014. They are an RN graduate who has committed to the values of peer support because those values saved their life. Their first experience with peer support training was through Psychiatric Survivors of Ottawa in 2016, and this has been reinforced with advanced peer support training and advanced facilitation training in 2018, with Peer Zone certification in 2019.
History of Peer Support
Peer support started as a grassroots effort
Mental health peer support can be many things for many people – it could look like church, a 12-step meeting, or an art class. Those things may support you in your mental health, but peer support as we know it started as a grassroots effort in the 1980s by people who not only survived and thrived and met mental health challenges together, but also survived a system that was at times patriarchal and oppressive. Mental health systems and social attitudes have evolved a lot over the past 40 years, but these informal peer support initiatives have their foundation in a time when systems were less kind and understanding than they are today. You may hear mental health peer support services referred to as psychiatric survivor services, or as consumer/survivor initiatives. One explanation is that we are both consumers of systems and survivors of them and of our mental health challenges. Present day emphasis is on initiative, with the attitude of "nothing about us without us."
Ottawa Area Consumer/Survivor Peer Support Groups

Psychiatric Survivors of Ottawa (PSO) has been active in Ottawa since 1992. They have uniquely advocated for funding to create a peer support program that runs directly out of local hospitals, connecting people with peer support services as they transition from psychiatric units back into their communities. They continue to provide workshops, creative programming, and to run a drop-in program, which means they provide both formal and informal peer support.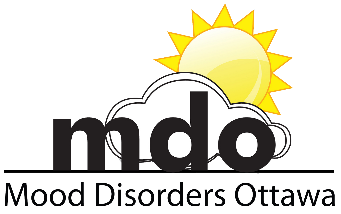 Mood Disorders Ottawa (MDO) started locally in 1986 and has successfully continued to be volunteer-run ever since. They share their history here in their celebration of 25 years of peer support. They provide structured and unstructured workshops as well as regular peer support groups, providing both formal and informal peer support.
Mental health peer support in Ottawa looks like many things. While there are many peer support organizations in Ottawa, here we're highlighting some longstanding consumer/survivor initiatives. We have more resources to share with you in our community resources section.
Community Peer Support Resources
Local
A local guide to peer support organizations and other helpful resources for people in recovery, called Rollercoaster to Recovery, can be downloaded for free with an email registration.
Provincial

Mood Disorders Association of Ontario
National
Coming soon.