Ottawa bars train staff in how to use Naloxone kits
Joanne Schnurr, CTV Ottawa, November 20, 2017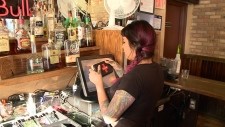 There's a new front-line defender in the fight against opioid overdoses in Ottawa.
Many local bars are now stocking up on Naloxone kits and training bartenders and bouncers how to use them.
It's within easy reach behind this bar at Pub 101.  Bartender Roxy Khan hasn't been trained yet on using the Naloxone kit but will be soon.
Roxy Khan at Pub 101 with Naloxone kit.
"In the right instance," says Khan, "if you're a bystander in bar, you're able to be helpful while waiting for further assistance. So I'm ready to be on front lines if I have to be."
In fact, bars, restaurants, hockey rinks, community centres are all front lines in the fight against opioid overdoses.  According to the Ontario chief coroner's office, 865 people in this province died last year from an opioid overdose, an increase of 19% since 2015. That means someone dies of an opioid overdose every 10 hours.
"We're a public gathering place," says Stephen Monuk with York Entertainment, "and there are lots of people that come to our establishments, so we do have a responsibility."
York Entertainment, which owns several bars in Ottawa, including Pub 101, has trained its bartenders and doormen, with another round of training to come.
Ottawa Public Health (OPH) is involved as well and has reached out to more than 60 bars, including those on university campuses, to offer overdose awareness and Naloxone training to staff.
OPH says eight bars have been trained so far in overdose awareness, 5 on how to administer Naloxone and training will get underway for another 25 bars.
And today, there is a new resource to add to the opioid crisis.  The Canadian Mental Health Association released a guidebook and online resource which highlights the dangers of drugs like fentanyl and offers easy instructions on how to administer Naloxone.
"Even your typical office could use this," says Tim Simboli with the Canadian Mental Health Association, "Opioids are a nasty thing when they happen and can happen anywhere, anytime and so organizations need to be prepared with what they're going to do."
The staff at Pub 101 is ready if and when it does happen.
'We haven't had to use them, so we're lucky," says Monuk, "and we hope we don't have to use them but we have them in case."
To watch the interview click here.